What I'm Reading:
Fiction:
I read a LOT during February, completing six fiction books. Among them, my favorites were:   
The Kitchen House by Kathleen Grissom. I don't know how I missed this when it came out in 2010. It was SO good - historical fiction at it's best. It tells the story of a white Irish girl raised in the kitchen house on a southern plantation during the 1800s. I cannot wait for the sequel, which releases in April! 
The Girl Who Wrote in Silk by Kelli Estes. Another historical fiction win. This one was about the Chinese Exclusion Act - something I didn't even know existed until I read this book.   
Non-fiction:
I read 3 non-fiction books during February, including my first graphic novel ever - March by John Lewis. I also enjoyed I Am Malala: The Girl Who Stood Up for Education and Was Shot by the Taliban and Waking Up White, and Finding Myself in the Story of Race by Debby Irving (full review coming soon). 
Kid's Books:
In honor of Black History Month, during February, I tried to read Hope an assortment of books either about African Americans or by African Americans. My favorites included 
- Yo! Yes? (Yo!) by Chris Raschka: A super cute book about the different ways we communicate across cultures.  
- The Skin You Live In by Michael Tyler: A great primer on the differences in skin tone and why those differences are good. 
Things I Love: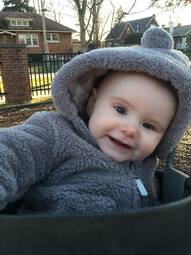 Swinging! and, on a related note, living across the street from a park. February was so wonderfully mild (We hit 50 degrees on multiple occasions!) that we frequently ventured across the street for midday breaks on the swing.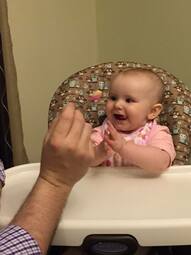 Fruit: We've enjoyed continuing to introduce Hope to a variety of new foods including her latest favorite - bananas.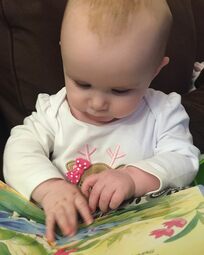 Reading: As an avid reader myself, I fully intend to teach Hope to LOVE books. This month, Hope started picking up books and flipping through the pages herself. I'd say we're off to a good start!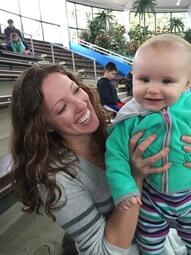 Zoo days with friends: We continue to love going to Brookfield zoo. This month, we discovered it's even more fun when you go with friends.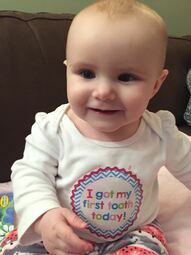 Teething: Actually, we don't love this process since Hope is super irritable when she's teething. But we think Hope looks awfully cute with her two front teeth. You'll have to take our word for it that they exist... They're nearly impossible to catch on camera.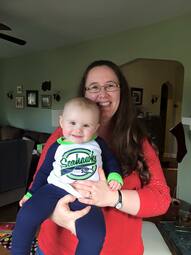 Pretending to be football fans and more importantly, watching the Superbowl with friends.   
Hanging out with friends and celebrating Lydia's 2nd birthday!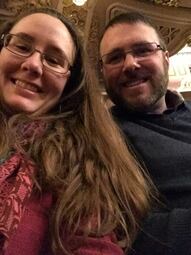 Sneaking off to the theater, something we actually managed to do twice this month. We saw Beautiful, which I enjoyed, and If / Then, which we both LOVED.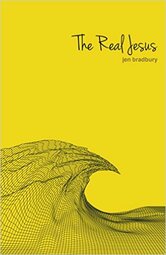 Sending The Real Jesus to the printer. I'm super excited to get this book - a devotional about Jesus based on the research published in The Jesus Gap - into the hands of students. It'll be available March 15 so feel free to pre-order your copy now!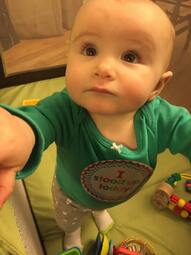 Standing. Now that Hope is standing - it's ALL she wants to do. She's also pulling up and cruising around the furniture like crazy. But when she wants to get somewhere fast, she defaults to crawling, which she's a pro at. 
Preparing for Youth Sunday: I'm always amazed at how much work Youth Sunday is... But I also think it's hugely important to the faith formation of our teens.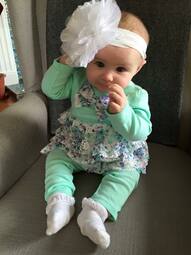 New clothes: It's always fun to dress Hope in new outfits. (For the record, the bow only stayed on her head for about 20 seconds... Even here, she's already in the process of removing it.)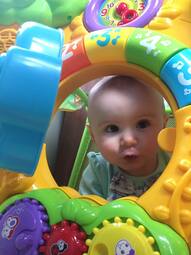 Playing in the treehouse: Our friends loaned us an indoor treehouse for Hope which she LOVES.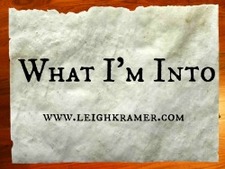 Today I'm linking up with Leigh Kramer to share what I'm into. You can join the conversation here.