Today, I'm linking up with Kate Motaung's Five Minute Friday. The rules: Write for 5 minutes flat – no editing, no over thinking, no backtracking.
This week's prompt: Joy.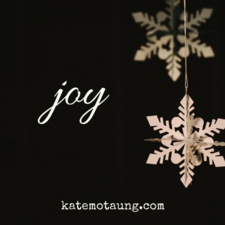 I know joy is a fruit of the spirit, but it's one I struggle with. Joy is not something that comes naturally to me.
But it does to my daughter, who daily teaches me about joy.
Last week, in anticipation of the brutal Chicago winters, we bought Hope her first winter coat and snow pants. When I arrived home, she tried the coat on. She didn't want to take it off. She found joy in her pink puffy coat.
It's a good thing, too.
The temperature dropped and it snowed two days later, at which point Hope found joy in the fresh snow. While I saw slipperiness and brutal commutes on snow-filled streets, she saw pure, unadulterated fun.
There is joy, it turns out, in standing on your tippy toes at the window, watching the snow fall.
There is joy in the beauty of the freshly fallen snow coating leafless trees.
There is joy in bundling up and marching through the snow, learning to walk in boots.
There is joy in making snowballs – even if you can't quite throw them yet.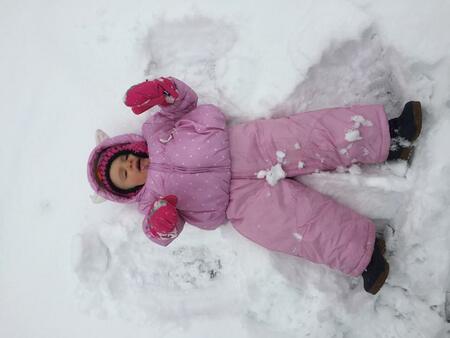 There is joy in falling to the ground and making snow angels.
There is joy in flying down a slide covered in snow.
There is joy in being pulled around on a sled and going down a hill – even a tiny one.
There is joy in knowing you are safe, that your mom is waiting at the bottom of the hill with open arms to catch you.
There is joy in knowing our heavenly father is doing the same, waiting with open arms to catch us when we fall.