I'm a big believer in the power of experiential learning. To this end, instead of giving a talk about prayer, I'd much rather create a series of prayer stations designed to give students the opportunity to pray in a variety of ways.
Over the next several weeks, I'll be posting some of my favorite prayer stations. Prayer stations can be used collectively during a prayer night or individually as part of a larger lesson. For example: This particular prayer station was used as part of a prayer experience during a junior high & high school winter retreat focused on baptism.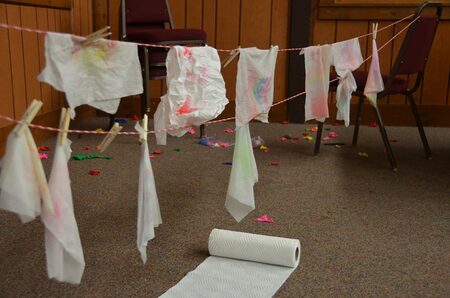 Prayer Station: Beautiful Things 
Themes: Baptism, Sin 
Scripture Link: Romans 6:4
Supplies: Washable markers, paper towel rolls, bucket filled with water, clothesline, clothespins
Directions: 
In Romans 6:4, Paul writes, "We have been buried with him by baptism into death, so that, just as Christ was raised from the dead by the glory of the Father, so we too might walk in the newness of life."
Through baptism, we are a new creation.
To put it another way, the song, Beautiful Things, says,
You make beautiful things out of dust
You make beautiful things out of us.
Think about your life. What have some of the low points in your life been? What are the things your baptism buried?
Take a few markers and on the paper towel, color a picture that represents those things. Your picture can be as abstract or as literal as you'd like. Do not use any words.
Then, fold your paper towel into at least quarters, with the side you've colored on facing OUT.
Dunk your paper towel into the bucket of water to symbolize the low points in your life as well as the other things your baptism has buried.
Then, pull your paper towel out and carefully unfold it.
Look at how beautiful it's become from the bleeding of colors.
Say a prayer thanking God for the way baptism transforms us – then and now.
Then hang your paper towel on the clothesline using the clothespins to symbolize the way God is transforming you, making something beautiful out of even the not-so-beautiful things in your life.
****************************************************
Download the Beautiful Things Prayer Station as a PDF here.
Get the One in Christ Prayer Station here. 
Get the Happy Baptismal Birthday Prayer Station here.
Get even more creative prayer stations you can use with your teens here.