As a person, youth worker, and parent, I value hard questions. Yet, I also admit feeling completely flummoxed when my four-year old asks me hard questions. For that reason, I was excited to read When Kids Ask Hard Questions: Faith-filled Responses for Tough Topics, edited by Bromleigh McCleneghan and Karen Ware Jackson.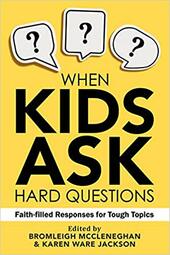 When Kids Ask Hard Questions explores a wealth of topics, organized into a few key areas: Who am I?, Who Are We?, What am I afraid of? What's Going on? And What's Fair? The authors of the essays are incredibly diverse in terms of their gender, race, and faith traditions, yet each has some kind of expertise regarding their chosen topic. Some of that expertise comes from training; In other cases, it comes from personal experience. Each essay in When Kids Ask Hard Questions follows a basic format: The author shares a story, tips for crafting the conversation with your kids, and then a list of resources for further exploration. Thanks to the resources in the "further exploration" list, my reading list has grown ten-fold as a result of this book!
I enjoyed When Kids Ask Hard Questions immensely. I appreciated its progressive theology and found its essays thoughtful and challenging. Some educated me on topics I had not previously thought of. Others challenged me to think differently about familiar issues. Weeks after reading it, I'm still thinking about Rev. Dr. Sarah Griffith Lund's chapter on bullying, which completely reframed the story of the disciples rebuking the children in Mark 10:13-16 for me. I am also still wrestling with Rev. Allie Scott's chapter on generosity. She took a topic that I (and so many other parents) struggle with and made it feel manageable. I was also incredibly challenged by Joshua Hammond's chapter on The life-changing magic of setting limits: technology and his reminder that it's our responsibility as parents to set limits for our kids – even when that seems impossibly difficult.
Without a doubt, I will continue to refer to When Kids Ask Hard Questions often in my own parenting journey. Even though its target audience is parents of children ages 6-12, I'm happy to have read and considered these issues earlier, when my oldest daughter is still only four years old. Once more, as a youth pastor, I know I'll apply the tools I've learned from this book to my work with teenagers (and their parents). When Kids Ask Hard Questions is also a tool I'm excited to put in the hands of the parents I work with as it will guide and equip them to respond to the hard questions their kids are asking them. 
*******************************************************
I was honored to receive a copy of When Kids Ask Hard Questions from Chalice Press and chose to review the book. All opinions are my own.