My research into what high school teens believe about Jesus (published in The Jesus Gap) has made me particularly aware of how important it is to help people understand that ALL of Scripture points to Jesus. Knowing how important this is, I'm always excited about resources that seek to help people do this. For that reason, I was excited to read The Jesus Who Surprises by Dee Brestin.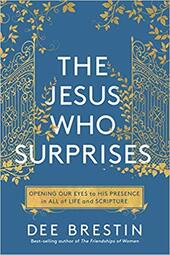 The Jesus Who Surprises explores several startling places in the Old Testament when Jesus shows up. Dee follows the pattern that Jesus himself lays out when he talks with the disciples on the walk to the Emmaus: She explores where Jesus is present in the Books of Moses, Psalms, and the Prophets. She reminds her readers that "Failing to see that the Bible is one great story is like failing to look at the cover of a puzzle box before you dive into its one thousand pieces. You may be able to put together the puzzle but it will be frustrating."
To help ease this frustration, Dee introduces each chapter with words and commentaries about what follows before then launching the reader into a five-day Bible study that further explores the themes from the chapter. The Bible study is designed to complete alone before then discussing it with a small group.
While the set-up of The Jesus Who Surprises is nice, what surprised me most about this book is how little it actually deals with Jesus. In so many ways, it felt as though Dee fell prey to what so many churches in my research did: Rather than talk specifically about Jesus, she used these Jesus sightings to instead talk about God or other general theological concepts that the reader may or not find interesting or helpful. Because of this, while The Jesus Who Surprises might be helpful to some people who are searching for a general Bible study, to me, its title delivered far more promise than its content did. 
*************************************************
  I was honored to receive a copy of The Jesus Who Surprises from Multnomah and chose to review the book. All opinions are my own.