Over a decade ago, I spoke on a panel at North Park University on ministering in multi-ethnic environments alongside Kathy Khang. I've been a fan of hers ever since. For that reason, I was excited to read her new book, Raise Your Voice: Why We Stay Silent and How to Speak Up.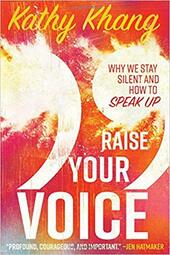 Kathy begins Raise Your Voice by exploring why we stay silent. This section of the book includes a fabulous chapter on our identity, about how Imago Dei gives us agency and a voice. According to Kathy, "When we understand our voice, we echo God's character and good news… Our ability to influence – our voice – is never for individual gain and safety but is intended to steward creation and encourage the flourishing of one another in community and in relationship with God."
One of the things I loved most about Raise Your Voice is that Kathy embraces all of who she is. As a result, while Raise Your Voice is indeed about voice, it's also about parenting and about using our voices to fight injustice and oppression. As Kathy says, "Speaking up doesn't increase division. It brings injustice and sin to the forefront. Speaking up can be an avenue of truth and healing, which can be painful for you and your friends."
I also loved Kathy's exposition of Esther throughout Raise Your Voice. As a youth pastor, the story of Esther has always captured my attention. It's a good story that engages teens. However, Kathy helped me see Esther with new eyes, as a story of "racial passing and the implications of a young, disenfranchised woman who has assimilated but not completely lost her culture accepting the opportunity to seek justice for her people in a misogynistic culture."
What will make Raise Your Voice particularly helpful to so many people is that while it's theologically robust, it's also practical. The second half of Raise Your Voice is devoted to how to speak up, both in real life and online. As someone who's active online and in several ministry forums, I wish a prerequisite to speaking up in online forums was reading Kathy's chapter on "When you post it." The world would be a far better place if everyone would heed Kathy's advice that, "We must not confuse using courage to speak up with responding in cowardice by lashing out because the medium affords us a degree of anonymity."
I would, without a doubt, recommend Raise Your Voice. Writers and bloggers will, of course, find this book useful… But so will anyone interested in better understanding who they are as a child of God. This book would also make excellent discussion fodder for leaders or a ministry team to read together.
*******************************************
Disclosure: I received a free copy of Raise Your Voice from InterVarsity Press in exchange for a fair and honest review.