Not long ago, I sat in worship thinking "Every aspect of this service has been entirely about me." That week, it felt like worship pointed not to Jesus, but to me.
I'm pretty sure that a few months earlier, I would not have been so acutely aware of this phenomenon but as it happened, that week, I was in the middle of reading Sharon Hodde Miller's Free of Me: Why life is Better When It's Not About You. Because I was, I was hypersensitive to the ways in which we shift the focus of various parts of our faith from God to us.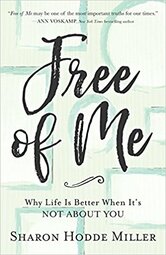 In Free of Me, Sharon discusses what she terms the "mirror reflex" – the "tendency to treat people as a reflection of yourself." According to Sharon, "You cannot be your focus… If your faith exists to make you feel better about yourself, you're going to veer off course." To this end, Sharon explores seven ways in which we make things - God, Family, Appearance, Possessions, Friendships, Calling, and Church - about us. She then describes four ways we can be free of ourselves: By praising God, loving others, having a purpose, and finding passion.
For the most part, I loved the first half of Free of Me, in which Sharon discusses the ways in which we make faith about us. Sharon's chapter, "When You Make God about You" is, in my opinion, worth the price of the book. In this chapter, Sharon explores how we've turned God into a self-help God that "exists to make you feel better about yourself. If you're feeling lonely, unattractive, overlooked, or insecure, this god can make you feel special. This approach to God is a Christian version of self-help messages." It's prevalent in many of our churches, including mine. The problem with the Christian self-help approach is, according to Sharon, that "it's markedly different from God's." Using Moses as an example, Sharon explores how God "Affirmed his own strength, his own leadership, his own self, because the outcome never hinged upon Moses. This story was not about Moses' strengths, and Moses was never meant to be the hero."
As the mom of a young child, I also particularly enjoyed Sharon's chapter, "When You Make Your Family About You." In it, she reminds parents, "Children are not the fulfillment of our identities and they should never be asked to bear that weight. The Christian identity can stand on no person – spouse or child – but on Jesus Christ alone."
Where I struggled with Free of Me was in the second half of the book – the discussion of the four ways we can be free of ourselves. Though Sharon makes several good points in these chapters, unlike the first half of the book, they felt prescriptive and almost formulaic, which caused me to rapidly lose interest.
Overall, though, I'd recommend Free of Me to women interested in taking an honest look at their faith and how much they've made it about them. Each chapter contains a focus verse, prayer, and discussion question that would be suitable for individuals to reflect on or to use in a women's small group.
**************************************************
Disclosure: I received a free copy of Free of Me from Baker Books in exchange for a fair and honest review.