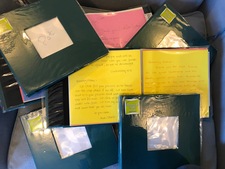 This time of year, youth ministry discussion boards are filled with posts about what to get seniors for graduates. My ministry also gives gifts to graduating seniors: Prayer books.
I started this tradition several years ago. I solicited prayers from people and then essentially scrapbooked them into an album. The problem with this is that it was extremely labor intensive. Eventually we reached a point where I didn't have the time to make a prayer book for every senior, so we stopped for a while.
During the years we didn't give out prayer books, I kept hearing from previous graduates. They'd tell stories about taking their prayer books with them to college. They talked about how meaningful it was to look back through them, especially during times when they felt lonely or when they didn't have the words to pray themselves.
After hearing this consistently, I decided we had to figure out how to create the prayer books in a less labor-intensive way.