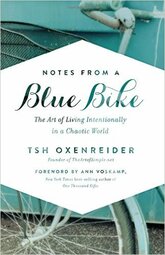 What the book's about: Notes from a Blue Bike by Tsh Oxenreider is about living intentionally in a chaotic world. It's about living simply in regard to five key areas of life: food, work, education, travel, and entertainment.  
Why I read this book: I read this book for several reasons:   
1. I follow and enjoy Tsh's blog, The Art of Simple.    
2. I was captivated and inspired by Tsh's family's year of global travel.   
3. I read this book as inspiration / research for a discussion in our high school youth ministry about materialism.    
My favorite quotes from the book: 
- "There are studies that show that being lifted out of poverty to a livable income indeed increases your overall happiness, but that the difference in happiness between a $75,000 and a $750,000 annual income is nil. More money ceases to yield a better life after a certain point."
- "Our job is not to teach our children everything about life - it's to pass on a love of lifelong learning."
- "Once they've traveled, kids have permission to question the how and why of their surroundings, because they've tasted and seen that other people live differently." 
- "We'd rather spend money on experiences, not things."  
My favorite essays in the book: As a a lover of travel, I appreciated Tsh's essays in the travel section. As a new parent, I found the entertainment section especially thought-provoking. 
Who I'd recommend this book for: Those who followed Tsh's worldwide adventures or who follow her blog will enjoy Notes from a Blue Bike as will fans of Jen Hatmaker's Seven; So, too, will people interested in learning more about living intentionally and simply.