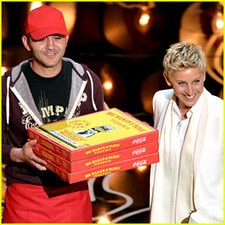 Like millions of others, on Sunday, I watched the Oscars. One of my favorite parts of the show was when it's host, Ellen, ordered pizza. A few segments later, she escorted Edgar, a stunned delivery man carrying three pizzas onto the stage. Together, they walked into the audience, delivering greasy pizza to celebrities dressed to the nines.
Of course, the moment was funny. Beyond that, however, it also taught me three important things about youth ministry:
1. Blending the ordinary with the extraordinary creates special moments. What made this bit funny was the absurdity of ordering (and eating) such an ordinary food on a night designed in every way to be extraordinary. By blending the ordinary with the extraordinary, Ellen created a moment. In the same way, when we in youth ministry blend the ordinary with the extraordinary, we create moments in which God shows up. When, for example, amidst the craziness of a mission trip, we bring an extra lunch to our work site so that we can share a meal with the family we're serving, God moves. When, in the midst of a fun-filled weekend retreat, we take time to silently gaze at the stars, students experience God in new and profound ways.
Read the rest of this article here. 
Image Credit: JustJared.com